Once upon an October dreary
My beloved Death grew weak and weary
As he stumbled through the great dorm door
Only this and nothing more.

All these years he'd thrilled and killed us
He had burned, mutilated, crushed and chilled us
Made us long for Death like none before
This it is and nothing more.

And he leaves our hearts still beating
With his own death for our repeating
On the morrow he will leave me, as my hopes have flown before.
Harby, My love, has said, Nevermore

And my soul from out that shadow that lies floating on the floor
Shall be lifted--nevermore!
Quoth the Raven, "Nevermore."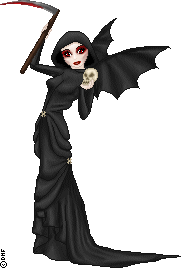 E!ceased
Deep into that darkness peering, long I stood there, wondering, fearing, doubting, dreaming dreams no mortal ever dared to dream before.
~Edgar Allan Poe